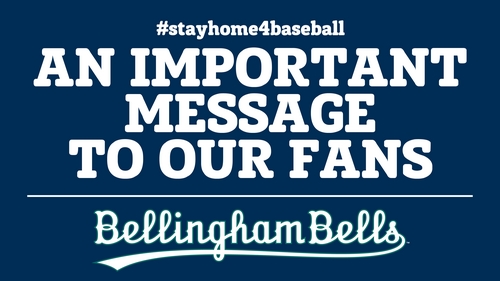 04/16/2020 9:57 AM
The Bells are aware of the Whatcom County Health Department's recent recommendation regarding the cancellation of summer 2020 events. We appreciate the Health Department's caution and concern for our community's health and safety, and thank them for their leadership during these trying times.
Player, staff and fan safety, as well as the overall health and well-being of our community, are our top priority. For that reason, we intend to adhere to all federal, city & state guidelines regarding community gatherings and to work closely with the Whatcom County Health Department and the City of Bellingham to monitor the situation in the coming days and weeks.
Over the years, summer baseball at Joe Martin Field has brought together our community, provided affordable, family-friendly entertainment, given young collegiate athletes a chance to showcase their talents and develop their skills, and stimulated the Whatcom County economy through strong local vendor relationships and many part-time jobs. We remain cautiously optimistic that we can bring Bells baseball to our community this summer, and are working hard to explore options as to how we can do this in a safe and healthy way.
Our three full-time front office staff members continue to be employed by the team, and will continue to be going forward. Our staff, and resources, are currently being deployed toward supporting local businesses and others who need help in our community. We are extremely grateful and proud to be a part of our Whatcom County community and are doing what we can to help in these challenging times.
We will continue to update you as more information becomes available. As the situation changes and evolves, we will work closely with our local public health officials to follow their guidance and to make decisions that are aligned with public health recommendations.