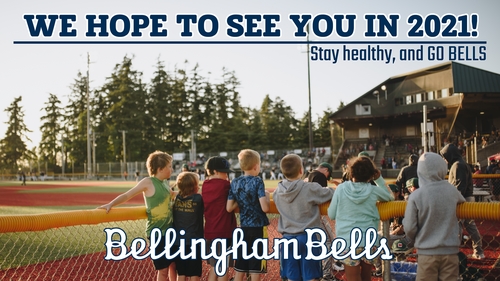 04/24/2020 8:27 AM
The Bells are aware of Mayor Seth Fleetwood's recent proclamation ordering postponement or cancellation of all events at City of Bellingham facilities until August 30, 2020. As a result, Joe Martin Field is not available to host the Bellingham Bells this season and the 2020 Bells season has been cancelled.

We greatly appreciate Mayor Fleetwood, the City of Bellingham, and the Whatcom County Health Department's caution and concern for our community's health and safety, and thank them for their leadership during these trying times.

We are deeply grateful to our sponsors, vendors, partners, host families, players, coaches, fans and everyone in the Bells family who has supported us so passionately over the years. While this cancellation certainly comes with great disappointment, we also have incredible excitement and optimism for the return of baseball at Joe Martin Field in summer 2021.

Moving forward, our three full-time front office staff members will remain with the team. We remain committed to our mission of community, development, and excellence, and over the next 14 months will be hard at work striving to bring you the best version of Bells Baseball in summer 2021.

For further questions, including questions regarding how this cancellation impacts ticket holders, sponsors and events, please see our COVID-19 FAQ page here.