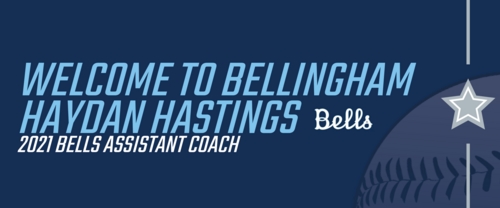 11/17/2020 10:09 AM
The Bellingham Bells are excited to announce the hiring of a new assistant coach. Haydan Hastings will join the Bells coaching staff for the 2021 season, joining Head Coach Adam Geaslen and Pitching Coach/Recruiting Coordinator Jim Clem.
Hastings is currently a senior catcher on the Tulane University baseball team. He is no stranger to the Pacific Northwest, having started his collegiate baseball career at Gonzaga University. Hastings also has experience playing in the West Coast League after spending the 2016 summer with the Wenatchee AppleSox.
"I could not be more excited to join the staff in Bellingham and bring another championship to the Bells," Hastings said. "The professionalism of the organization, both on the field and in the office, is second to none. I can't wait to place myself in such a great program and develop the athletes as players and men. Summer can't come fast enough. Go Bells!"
Despite the fact his collegiate playing career has not yet come to an end, Hastings has coaching experience, having worked with the catchers at Tulane University in a mentoring capacity during the 2019 and 2020 season. He's also experienced working with athletes during lessons and camps.
"We are thrilled to be adding Haydan to the coaching staff," Bells general manager Stephanie Morrell said. "Coach Geaslen, Coach Clem and I were all in total agreement he was the right person to join our team. Even though he is still playing collegiately, Haydan is passionate about coaching and helping others to improve their game. He has great knowledge of the game, exceptional energy, and the desire to do whatever it takes to get better as a team every day. I'm thrilled Haydan is joining our team and I know he will make a positive impact this summer."