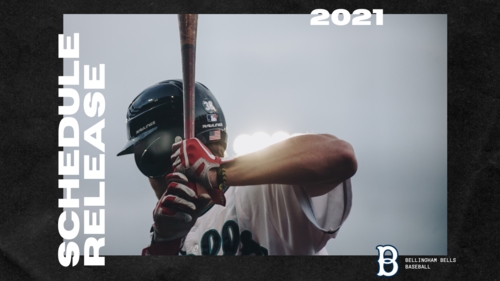 11/19/2020 12:03 PM
The Bellingham Bells are excited to announce the release of the West Coast League schedule.
The Bells will begin play at Joe Martin Field on Friday, June 4, beginning the season with a three-game series versus the Kelowna Falcons. The schedule features 32 home games at Joe Martin Field, including a home game on the Fourth of July.
"We are really looking forward to the upcoming season and are hard at work planning the details," Bells general manager Stephanie Morrell said. "We have a fantastic roster of players prepared to compete and a slate of fun promotions planned. As we plan for a new season, our team is focused on ensuring Bells Baseball will continue to meet and exceed fan expectations while providing a high-quality, affordable family friendly entertainment option for the Whatcom County community."
The West Coast League will welcome three new teams this season, bringing the total of league members to 15.
"We are extremely encouraged by the growth of the West Coast League and are thrilled to welcome the Edmonton Riverhawks, Kamloops NorthPaws & the Nanaimo NightOwls to the WCL," Morrell said. "All three are great additions, each is a fantastic market with top notch ownership and operations."
Due to the on-going COVID-19 pandemic, the 2021 schedule is subject to approval from state & local health and governmental authorities. While the Bells are hopeful to welcome fans to games, determinations about fan attendance and capacity will be made at a later date, in coordination with city, county and state officials.
"We are very optimistic for the 2021 season," Bells general manager Stephanie Morrell said. "It is our intention to do everything we can to bring baseball back to Joe Martin Field in a way that is responsible and safe."