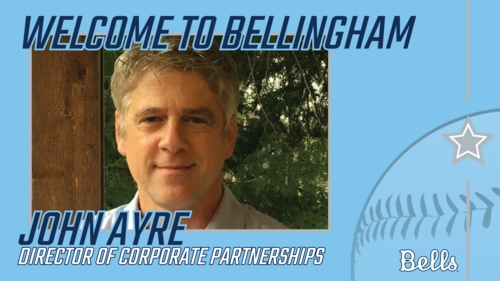 11/25/2020 3:04 PM
The Bellingham Bells are excited to announce the hiring of a new front office staff member.
John Ayre will join the Bells as the Director of Corporate Partnerships, effectively immediately.
In his new role with the Bells, Ayre will focus on sales of sponsorships and group events, as well
as providing some operational and managerial support to Bells' general manager Stephanie
Morrell.
"It's an honor to be part of the Bells' Family," Ayre said. "The support our community shows for
the Bells is second to none and shows why baseball in Bellingham has been around for decades.
I look forward to bringing my love for our community as well as the game of baseball to the
organization."
Ayre comes to the Bellingham from the Bellingham Holiday Inn & Suites, where he served as
Sales & Marketing Manager. Prior to his time with the Holiday Inn, Ayre spent five years with
Whatcom Sports & Recreation and the Bellingham Sportsplex as the Director of Community
Development, Relations and Marketing. Ayre also served as the President of the Bellingham
Blazers hockey team and the Bellingham United FC soccer team. Prior to moving to Bellingham
in 2005, Ayre also worked with the Bakersfield Condors Hockey Team (AHL) as their Director of
Community Relations.
Ayre joins General Manager Stephanie Morrell and Sales & Operations Coordinator Ashley
Ferns as the third full-time member of the front office staff.
"I could not be happier that the stars aligned, and we were able to bring John on board,"
Morrell said. "John's experience in the sports industry, coupled with his experience in
marketing, sales and community relations made him a perfect fit for our team. I have known
John for many years, and I know he is also the kind of individual we want for our team:
principled, friendly, customer-centered and hard working. Without a doubt, the Bells will get
better with John on board and I look forward to working with him!"